Claire is a beautiful, smart, publicity-hating, teenager. She is told to be very attractive. According to Dogio. But the most important thing to her is friendship.
Appearances
Red curly hair, light skin, pink ruffle blouse, white jeans, light pink lips, small nose, thin red eyebrows, and hazel eyes.
Personality
Claire is beautiful, funny, and friendly. She doesn't care what others say, she's happy to be her. That's how she met her best friend Amber. Claire is the oldest and hates her siblings. So she doesn't understand why her dad always sets her up with them. Claire has a zing toward Duke. Unfortunately, Dogio feels a zing for her.
Background
Claire's mother had disappeared with Duke's parents. Her dad Penn adopted Reggie and Stella later on. Claire met Mabel, Rhonda, and Hannah shortly after. Years after Claire had more than 5 friends.
C.B.S High Episodes
Season 1
Travis the Tragic!
Claire sings Cafeteria Song.
A Perfect Day
Claire tries take Duke's place as the leader of the Gradua-ettes only resulting to failure.
Ms. Four-Eyes
Claire defends Amber when Travis tries to bully her in class. After class Claire introduces herself and invites Amber to sit with she and her friends at their lunch table. Next Claire congratulates Amber for her perfect score. Finally she is there when Amber confesses her fake Badge to the class then flees. Luckily, Claire and her friends pursue and comfort her - saying they liked her either way and they'll all still be friends.
Emblem/Force
Friendship/Shielden
Versions
Student Claire Steven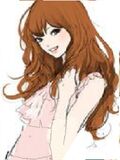 C.B.S High Appearance
Red curly hair, pink shirt, cobalt jeans, blue eyes, pink lips, and blush
Badge
Friendship
Trivia
Claire might end up zinging Duke
Claire looks a lot like Stella
Claire hates being a city girl
The name Claire is a Latin baby name. In Latin the meaning of the name Claire is: From the feminine form of the Latin adjective 'clarus' meaning bright or clear
Claire's dad does not approve of her having a zing
Age
90
Gallery
v - e - dC.B.S High (series)