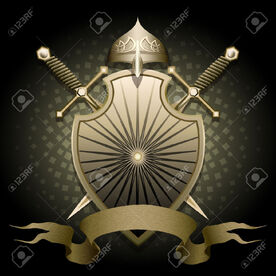 The "Guardians" are a group of semi Guarders. They were all chosen by Swirly to protect Equeria until the Guarder rose. Then they would assist him in battle against the Creature and his army. It consists of 12 generations each with six members.
First Generation
Razor: Razor is a fast-running punk girl. Although she may seem tough she is really quite sweet. Her best friend is Lighting and Zingling Tarantula. For more: Razor
Lightning: Lighting is a quick flying motivator. He isn't really welcoming to stranger but after a while is very friendly. His BFF is Razor and side-friend Sushi. For more: Lightning
Katana: Katana is the leader of this generation of Guardians. Swirly had chosen him when he was but a dropout. Now he can outthink anything! For more: Katana.
Tarantula: Tarantula likes to stay quiet and mysterious. Which attracts Razor, but later Tarantula learns life can be better with light. For more: Tarantula.
Sushi: Sushi is calm and patient. Whenever he is raged calmness is the answer. Sushi's whole name is Sushi Dushi. For more: Sushi.
Pinky: Pinky has a wonderful personality. She is very welcoming. He best friend is Sushi. Pinky hates being called girly as well. For more: Pinky.
Death
The Guardians sacrificed their lives to disarm a bomb that killed them all.
Second Generation
Giganto

Invisabilly

Budlight

Nature

Gray Matter

Garrison
Death
Drowned in Tsunami Sea
Third Generation
Nexus

Victorious

Courage

Eris

Hyper

Sonic
Death
Killed each other
Fourth Generation
Katrina

Sparkle

Tidal

Bridget

Lilly

Animalia
Death
Saved Msomi from the Piranha-Men
Fifth Generation
Melody

Autumn

Wilderness

Brainiac

Sunburn

Atlantic
Death
Busted into Changix Cave to kill Christakis but failed
Sixth Generation
Poppy

Miracle

Barbette

Aura

Temper

Venus
Death
Armageddon killed them
Seventh Generation
Gorgeous

Quarterly

Cosmos

Marble

Andrew

Candy
Death
Eaten by a Dragon
Eighth Generation
Forceful

Golden

Peace

Georgette

Nature

Speedor
Death
Frozen in time
Ninth Generation
Mozzarella

Harp

Liquid

Rose

Comet

Heroic
Death
Bitten by Pythors
Tenth Generation
Flex

Chlorine

Furnace

Genius

Charity

Tiger
Death
Disappeared at sea
Eleventh Generation
Diamond

Bamboo

Moss

Mount

Embila

Nectorce
Death
Fought and died in the War of the Fives
Twelfth Generation
Tree Bark

Shadow

Eclipse

Cupid

Rocket

Hunter
Death
Trapped in a falling tower
Thirteenth Generation
Dawn

Andy

Scott

Barry

Butch

Lu